You can contribute to a safer community for all South Australians
HOW MUCH WOULD YOU LIKE TO DONATE?
Provides a welcome pack with training resources for new volunteers.
Contributes to a training uniform for a new volunteer.
Puts a new volunteer through a first aid training course.
Any amount helps us support your community.
Please give a gift to help save more lives like Lorraine's.
Imagine enjoying a family day out with your three young children at the Royal Adelaide Show, when your life suddenly flashes before your eyes. This was the scary reality for Lorraine, a young mother and wife who was given a second chance at life, all thanks to St John Ambulance SA volunteers.

I want to thank you, for enabling our volunteers to be there for South Australians in need like Lorraine. Our volunteers provide high quality health and medical services at events around the state, encountering life-threatening situations like Lorraine's. As a charity, providing the necessary training and equipment for St John volunteers would not be possible without the generosity of donors like you. Within the enclosed equipment guide, you can see just some of the costs your kind donation contributes to.

Lorraine and her entire family's life changed dramatically on 1 September, 2019, on what was meant to be a fun family day out at the Royal Adelaide Show with her husband and children. The family had been enjoying all there is to see and do at the Show when Lorraine suddenly began feeling faint.

St John volunteers were quickly on the scene. Thanks to their extensive training, they were able to recognise Lorraine was experiencing a cardiac arrest. They immediately started cardiopulmonary resuscitation (CPR) and applied a defibrillator.

Lorraine's family watched on in disbelief as St John volunteers continued to work on their beloved mother and wife. After being shocked with a defibrillator, Lorraine was successfully resuscitated.

Her memories of the day are mainly the ones her family has told her about, however, the sight of waking up and seeing a St John uniform is something Lorraine will never forget.

"I remember waking up and seeing [St John volunteer] Joe's face and him telling me 'you're back'," Lorraine recounted with tears in her eyes.
Can you imagine if St John volunteers had not been there that day? A donation today will ensure our volunteers can be there when the community needs them most.

At the time of the incident, Lorraine was under a lot of stress but was not aware of any prior health issues. After several weeks in the hospital and multiple tests later, Lorraine was diagnosed with a genetic condition that she and her family had not been aware of – Brugada Syndrome. The rare condition causes irregular heart rhythms and is often fatal. Doctors said to Lorraine that she is here today because of where she was and because St John volunteers were around her.

Lorraine's terrifying ordeal and subsequent medical discovery turned out to be a blessing in disguise as family members, even back in Ireland where Lorraine is from, have since been tested and possibly had their lives saved too. One of her children was found to have the same gene, and is now also being monitored.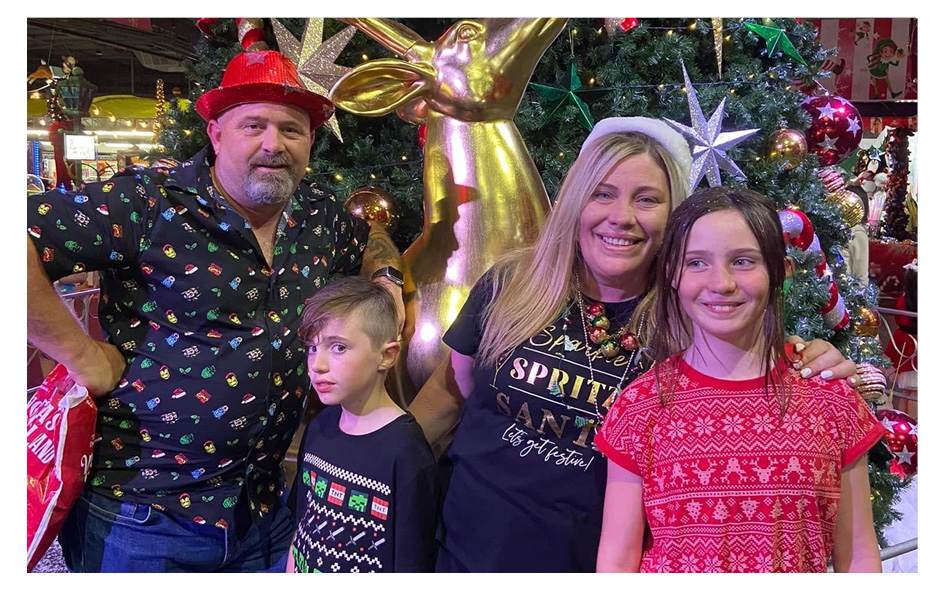 Since suffering a cardiac arrest, Lorraine has been living with a newfound appreciation for life and all its blessings, focusing on creating wonderful memories with her family and not sweating the small stuff.

A whole family has now potentially been saved, thanks to the support of generous donors like you. Could you give a tax-deductible donation before 30 June, so that more St John volunteers can be trained in lifesaving skills and provided with the equipment to be there when South Australians need us most?
Lorraine had seen St John volunteers at events before, but she never imagined needing them to save her life. After the cardiac arrest, Lorraine made it her mission to ensure that the volunteers who saved her were properly thanked and recognised for their heroic actions on that fateful Sunday in 2019.

As events resumed following COVID disruptions, Lorraine came back to the St John Ambulance SA medical centre at the Royal Adelaide Show in 2022 to thank the team for saving her life and let the volunteers know she is doing well. She gifted them chocolates and a cake, which had 'Thank you for saving my life in 2019' written on top.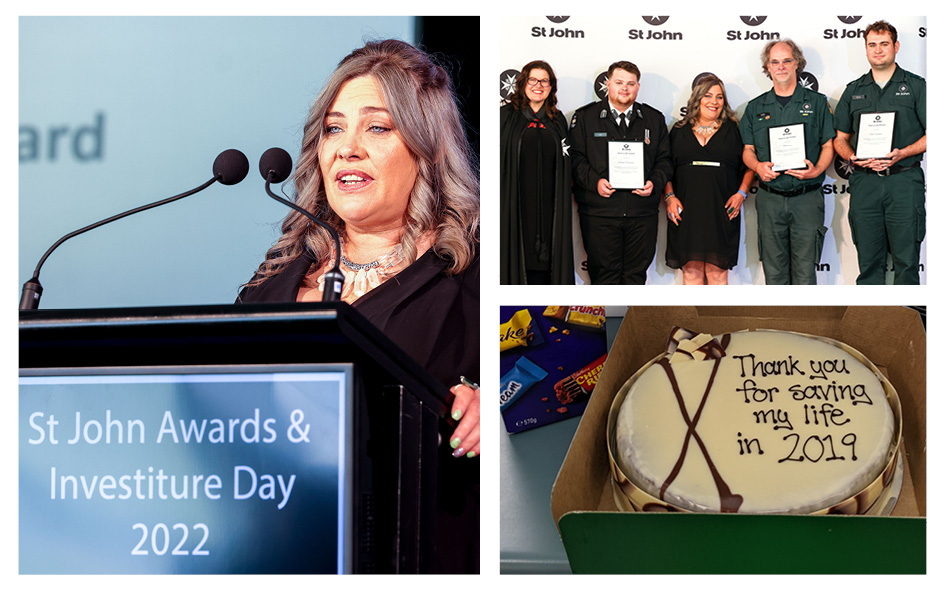 While the specific volunteers who saved her were not present that day, Lorraine was finally able to meet them at the St John Awards Day in October last year, which is an annual celebration of the success and achievements of St John SA members. Joseph, Hans, and Zach were presented with the "Save A Life Award", awarded to volunteers for their actions to render life-sustaining assistance to a person in need. That day, Lorraine spoke of her eternal gratitude for the volunteers giving her a second chance at life.

Lorraine and the three volunteers have since kept in touch, with St John now becoming a big part of the whole extended family's lives. Today, Lorraine and her family don't take a single moment for granted. What she went through continues to be a good reminder to friends and family of what really matters in life.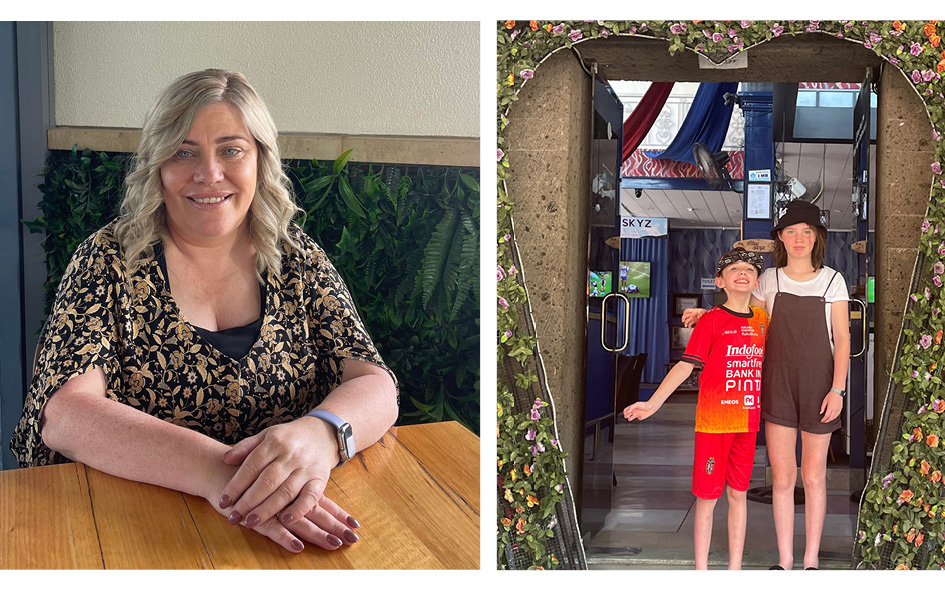 If you are able to give a gift today, or consider giving a very generous donation, you will be helping St John Ambulance SA to continue our work in the community and save more people's lives like Lorraine. No matter how big or small, your donation before 30 June will make a difference. Remember that all donations over $2 are tax-deductible.

Thank you for helping St John Ambulance SA volunteers to give South Australians like Lorraine a second chance at life. Your generosity will impact countless families in our community.

With sincere thanks,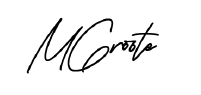 Mark Groote
Chief Executive Officer
St John Ambulance SA