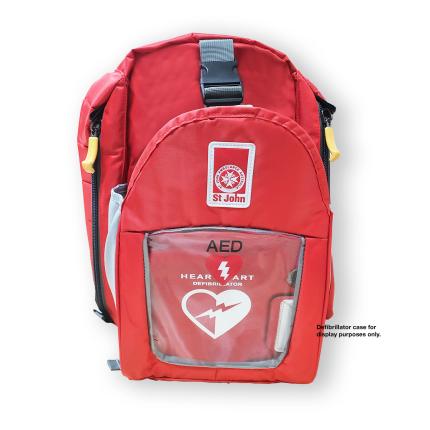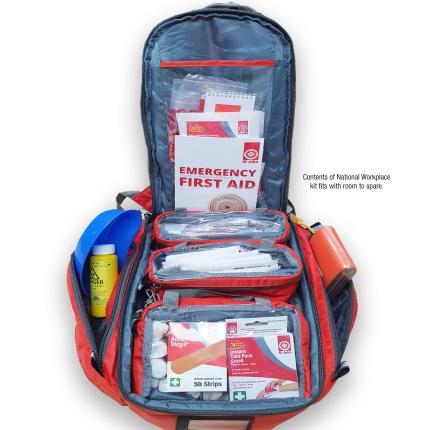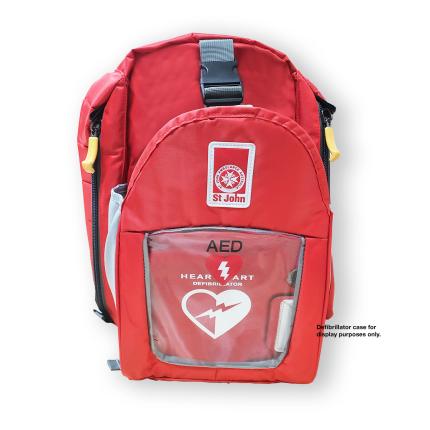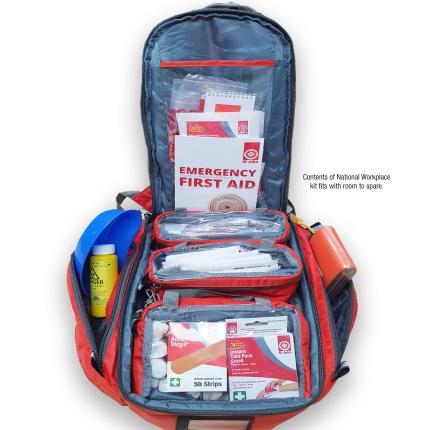 Workplace National Mobile First Aid Backpack / AED carry case included
Contents*
*Contents subject to change
1 x 454110 AED backpack ( AED not included) 
3 x 1010 Bandage Conforming Light 5cm
3 x 1020 Bandage Conforming Light 7.5cm
1 x 1064 Bandage Compression Extra Firm 10cm
1 x 1128 Tape Hypoallergenic 2.5cm x 9m
2 x 1181 Triangular Bandage 110cm x 110cm
1 x 1210 Instant Cold Pack
1 x 2060 Combine Dressing 10cm x 20cm
1 x 2090 Wound Dressing No. 14
1 x 2091 Wound Dressing No. 15
5 x 2025 Gauze Swabs 7.5cm x 7.5cm 5 Pack
1 x 2130 Non-adherent Dressing 10cm x 10cm
3 x 2140 Non-adherent Dressing 7.5cm x 10cm
6 x 2152 Non-adherent Dressing 5cm x 5cm
4 x 2170 Eye Pads
1 x 2230 Adhesive Strips Hypoallergenic 50 Pack
1 x 3010 Scissors Medical 12.5cm S/S Sharp/Blunt
5 x 305402L Gloves Nitrile Large Pair (Disposable)
1 x 3070 Forceps Pointed 12.5cm SS Sharp
1 x 3080 Accident Emergency Blanket
2 x 309105 Splinter Probe (Disposable)
1 x 343002 Sharps container 150ml
1 x 3538 Resuscitation shield
1 x 3130 Safety Pins 12 Pack (Assorted)
1 x 3140 Notepad & Pencil in bag
1 x 3225/1 Emergency First Aid Book
1 x 4010 Kidney dish
1 x 4030 Gallipot
1 x 4070 Bag Resealable Small 10cm x 18cm
1 x 4080 Bag Resealable Medium 15cm x 23cm
1 x 4090 Bag Resealable Large 23cm x 30cm
10 x 505415 Cleansing Wipes
10 x 505300 Iodine Swabs
4 x 5111 Saline Steritube 15mL
5 x 5140 Hydro Gel Sachets 3.5g
1 x 515413 Antiseptic Spray
1 x 8881240 Universal splint - flat pack
ST John AED backpack designed to securely carry your AED in mobile situations. Adjust the strap to securely fit your AED and case.
Made of polyproplene with three zippered compartments running the length of the backpack to store items. The black heavy duty zippers have long sturdy yellow pull tabs; easy grip design to open and close in any weather.
Inside the main compartments are the contents of our National Workplace first aid range to meet the needs of your workplace.  A single source of first aid equipment.